The world's finest electric generator…
Portable Electric's VOLTstack power stations deliver reliable, instant power whenever and wherever you need it.
The VOLTstack is a battery electric generator – no fumes, no noise and no excessive costs. Simply flip a switch for silent, emissions-free portable power. No matter the need, the VOLTstack is revolutionizing the way we power our world.
Capable of replacing your gas/diesel generator, the VOLTstack will change the way you use power – forever.
Keep reading to learn more about the future of power.
VOLTstack PRODUCT SERIES
The most robust, reliable and fast charging power stations in the world.
Portable plug and play power. Charges in 2.5 hours. Solar PV charging capable.
Full wireless monitoring and data collection.
Long-life, 10 – 15 year / 5000+ cycle lithium ion batteries.
4 year manufacturer's warranty.
VOLTstack 2k
Agile, nonstop power for lights, sound, camera & more
VOLTstack 2k
2.5 kW; 2.8 kWh (NA 120V / EU & ROW 230V)
2500W for 1 hour, or 250W for 10 hours of continuous power
2.5 hour fast recharge
Portable, plug and play for off-grid applications
Solar/wind recharge
Weight: 190lbs
Dimensions: (L x W x H): 30″ x 18″ x 23″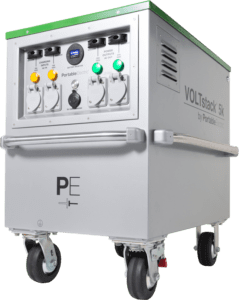 VOLTstack 5k
Workhorse capable of powering mid-size operations
VOLTstack 5k
5 kW; 5.6 kWh (NA 120V / EU & ROW 230V)
5000W for 1 hour, or 500W for 10 hours of continuous power
2.5 hour fast recharge
Workhorse large enough for almost any temporary application
Solar/wind recharge
Weight: 330lbs
Dimensions: (L x W x H): 31'' x 20'' x 29''
VOLTstack 20k
Powerhouse capable of powering large-scale operations
VOLTstack 20k
20 kW; 80 kWh (120/240 V)
Can be customized to suit needs
Days of continuous power
5 hour fast recharge from 240V/208V
Three Phase 208V: Continuous 48A
Split Phase 120/240V: Continuous 120/85A
Sleek, compact trailer, easy to tow and use
Can be positioned next to any infrastructure, people, or in confined spaces
Weight: 5000lbs
POWERING PRODUCTIONS…
Portable Electric & Amazon's, "Man In The High Castle" series brought our resources & mutual interests together to see how we could best integrate clean energy into film & television & to mitigate using solely diesel power generation. The ideal was to reduce our carbon footprint, fuel costs, noise disturbances etc. It has been an excellent learning & development process for both of us and we are really happy with the results.

The 5K proved useful in powering daylight splinter units, DIT downloading after camera wrap, dollies, techno 15, sound cart, short durations at crafty or catering truck etc. The 13K was great for daylight scenes, or powering cranes & gear on water barges, big daylight establishers, downtown areas where generator placement was prohibited.

Next season we'd opt to lease 2-3 of the 5k units and rent the 13k on a daily or episodic basis. Looking forward to making film & television a more sustainable, green & clean industry.
As a Gaffer, I know the VOLTstacks are the future of generators, and are changing the industry we work in. We are now using more low powered LED lights, and now I can save on cable runs through positioning generators.

In every application we are finding new uses for them, from lighting, locations, sound, video, camera, grip and low loader work. Everyone is asking can I use VOLTstacks to power our sets/locations on recces. Productions are supporting the use of them due to them being silent, having no fuel costs and user friendly.
The VOLTstack is one of the most positive steps forward in movie sound in recent years. Since the very first film with sound, the noise of diesel generators has created problems for Sound Mixers recording actor's dialogue on location. 

The VOLTstack is silent, meaning generators can be close to set, helping you hear the actor's original performance. All this while reducing harmful emissions. The VOLTstack is a win-win.
First we plugged one light in, checked the voltage on it, it was fine. And then we plugged in two, then we plugged in three and we ended up using eight lights. The 13k sat in the snow for three days and it never died on us once. I realize when I'm on a survey that I've got Portable Electric in my back pocket. For confined spaces, locations where you can't cable, places with noise restrictions, these make total sense. Portable Electric is what everybody needs, whether they know it or not, and it's the way the world is going.
Using silent electric power saved us a number of headaches. Having the power station right beside set meant I could manage this project with very little help and save money. Because noisy gas or diesel options need to be hundreds of feet away before the sound man stops complaining, you often need an extra person who can babysit the unit, keep it topped up and check the lines if something goes wrong. I managed this entire project with only one other LX crew member, and I was never more than a few steps from set.
The Portable Electric generator was an invaluable addition to our gear on ExtraOrdinary Amy. The advantage we had shooting with an electric generator was that it made no noise, so we were actually able to use it as late as we needed without bothering neighbors. We needed a lot of power, we had a large crew with several stations for Village, DIT, Video Playback, and we had large spaces we needed to light. The generator worked reliably and on one charge powered us for almost 2 days. I hope we can power all our sets with Portable Electric!
Portable Electric was extremely accomodating to our production's needs. They quickly brought our Genny Op and Gaffer up to speed on the equipment, allowing the shoot to progress without a hitch. Even after running high powered lighting setups and a full video village, we were surprised to find that we hadn't even used 10% of their 13k unit on the first day. The silent emissions-free generators were the perfect solution for shooting in a residential neighborhood, and were no doubt appreciated by both crew and neighbors alike. As our Genny Op, a longtime veteran of the industry remarked, "it's the future of power for sure."
AND EVENTS…
Portable Electric gave the Vancouver International Soccer Festival the power to choose clean, renewable energy. I am thrilled they are operating in Vancouver and impressed at the capability of their battery systems. We will certainly get them to power our entire event next year!
I have been looking for this type of solution that Portable Electric offers for some time. I was always thinking that the noisy, smelly gas powered generators were taking away from our events. Portable Electric delivered exactly what they said they would – clean portable power that worked.
We were excited to Welcome Portable Electric to help power our Blessed Coast Festival this year and in doing so, we were blown away! The level of stewardship the team holds over this incredible technology made the difference in smoothly running our sound and lighting off silent, renewable energy. It was a miracle we had only dreamed of years ago.
Portable Electric is about to change the way festivals sound and smell forever. The inaugural Vancouver Mural Festival launched with 80,000 people celebrating on Main Street and one of the best parts of the event was the "festival staple" that was missing: stinky gas generators and rumbling motors behind every stage and food cart. Instead: quiet, clean power! We look forward to the impending festival power revolution.
Portable Electric is the perfect replacement for a noisy gas generator. Working with gas generators outdoors has always been an issue trying to keep the stage volume above their noise. VOLTstacks are great in these situations as they produce no noise. Once the show is up and running you no longer notice they are there. I would highly recommend Portable Electric to anyone or business needing power supplies for outdoor events and concerts.
WE'RE FEATURED IN…
BLOG UPDATES
UPCOMING EVENTS
IN THE NEWS
Portable Electric CEO Mark Rabin speaks about Cleantech in Disaster Relief 
REMOVED – Radio NL, September 12th 2019
From Hurricane to Hollywood Blockbuster – The Rise of (Clean) Portable Energy
Foresight, September 9th 2019
Clean tech entrepreneurs head to Burning Man to model a post-fossil fuel future
GeekWire, August 15th 2019
Vancouver company's green generators are pumping clean power into the film industry
National Observer, July 30th 2019
Vancouver councillor wants to ban generators from film shoots and food trucks
The Star, July 23rd 2019
Bond 25: Daniel Craig on his first day filming in Jamaica
Daily Mail, April 29th 2019
Bond 25 to Get the IMAX Treatment
Indiewire, Mar 29th 2019
How A Canadian Startup Used Clean Tech To Help Rebuild The Carolinas After The Hurricanes
Forbes, October 30th 2018
Mark Rabin: How renewable power is enabling and speeding up disaster relief
Vancouver Sun, October 30th 2018
Running Out of Gas: Can This Innovative Solar and Battery Electric Generator Fight Energy Poverty – And Climate Change?
Next Billion, October 29th 2018
What Disaster Relief Taught Us About the Need for Clean Energy
SEE Change Magazine, October 22nd 2018
Vancouver Company Helps with Hurricane Relief
CityNews, September 20th 2018
B.C. maker of emissions-free generators eyes global market
Business in Vancouver, August 23rd 2018
Freaks and Geeks: The Documentary Goes Sustainable
Creative BC, April 12th 2018
First of its kind! Sustainability in the Production Managers Workshop with the Directors Guild of Canada
Creative BC, April 10th 2018
Portable Electric
3095 Hebb Ave
Vancouver, BC V5M 4P7
---
PHONE
1 (604) 901-2500
---
EMAIL
info@portable-electric.com